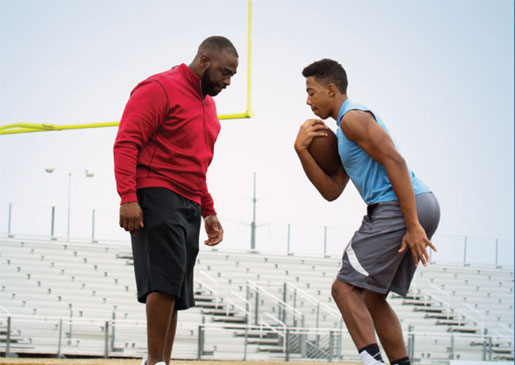 Founded by NFL greats, Earl Campbell and Gary Baxter, Project Rose Research Institute for Sports Science was created to offer athletes and non-athletes of all ages access to the most state-of-the art treatments and technology for a wide array of health programs. Located on the 2nd floor of Baylor Scott & White Texas Spine & Joint Hospital, Project Rose Sleep Program is 1 of 4 optimum health programs created by the pros.
At Project Rose Sports Medicine Program, our professional team strives to efficiently and effectively diagnose and provide appropriate treatment and advice to help each patient get back to enjoying the active lifestyle they want, need and deserve. If your body does not respond effectively to the initial regimen or treatment we recommend, our skilled team will find additional and alternative ways to help you.
For our team, your health, wellness and comfort are of lasting consequence.
From Sports Medicine and Sports Science – to our Sleep, Wellness and Fitness programs, featuring Pilates, yoga, human kinetics, and more — Project Rose was created by true professionals who understand the need for excellence and innovation in preventative and wellness care.
When dealing with injury, competitors seek a turnkey sports medicine program. Project Rose Sports Medicine Program, the only one of its kind in East Texas, offers the most complete sports medicine experience available. With multiple services under one roof, the program is able to accommodate the busy schedules of professional ballplayers, student athletes and weekend warriors.
This state of the art facility includes:
• Primary Care Sports Medicine Clinic
• Outpatient Physical Therapy
• Referrals to Specialist Physicians
• Access to Advanced Imaging Equipment
• School and League Outreach via Licensed Athletic Trainers
• Certified Specialist Sports Dietitian
• Rehab to Performance Bridge Programs
• Proven Exercise Recovery Modalities
• Multiple Wellness Offerings
• Sleep Medicine Lab
• Access to Cutting Edge Research
Primary Care Sports Medicine
Primary care sports medicine involves complete care of an athlete. Approximately 90% of all sports injuries do not require surgery and are effectively treated by a primary care sports medicine physician. In addition to musculoskeletal injuries, Project Rose Sports Medicine Program treats head injuries (TBI/Concussion) and athletes with chronic conditions such as diabetes and asthma. Some of the additional service
offerings include:
• Referrals to Specialist Physicians
- Orthopedic Surgery, Cardiology, Pulmonology, Endocrinology
• Imaging Studies
- MRI, CT, Ultrasound, Echocardiography, Stress Testing
• Concussion Evaluation and Treatment
- Multispecialty Physician Concussion Team
• Certified Specialist Sports Dietitian
Certification as a Specialist in Sports Dietetics (CSSD) is the premier professional sports nutrition credential in the United States. A CSSD is a registered dietitian who provides safe, effective, evidence-based nutrition services for health, fitness, and athletic performance. Further, a CSSD applies the science of sports nutrition to fuel fitness and performance. The fulltime CSSD at Project Rose Sports Medicine Program caters to athletes with special conditions and medical diagnoses, like diabetes, cardiovascular risk factors, compromised bone health, abnormal iron status, GI issues and food intolerances, and food allergies.
Project Rose CSSD services include:
• One-on-one consultation
• Team Talks
• Athletic Staff education
• Presentations on sports nutrition
• Evaluate dietary supplements for legality, safety, and efficacy Sports Nutrition Topics of Interest include:
• Pre-/Post-Workout Nutrition
• Anti-Inflammatory Nutrition
• Nutrition for Injury Prevention & Recovery
• Hydration and Fluids
• Body Composition and Performance
• Sleep
• Supplements
Outpatient Physical Therapy
Rehabilitation is a key step in recovering from injury or surgery, perhaps the most important step. Improper rehabilitation may result in re-injury or incomplete recovery. When performed correctly, athletes return to their pre-injury level of performance, and, occasionally exceed their pre-injury performance due to improvements in body mechanics. An experienced, specialized physical therapist, utilizing the latest techniques and advanced equipment, is able to personalize the rehabilitation protocols for each athlete, thereby optimizing results. Project Rose Sports Medicine Program physical therapists offer multiple specialty certifications and high-tech equipment to achieve the best outcomes for patients.
• Zero Gravity Treadmill
• Biodex Weight Assist
• Biodex Balance System
• Keiser Functional and Performance Training Equipment
• Rehabilitation to Performance Training Bridge
Programs
• Certified Orthopedic Manual Therapist
• Orthopedic Clinical Specialist
• Vasper Training Unit
Licensed Athletic Trainer
The National Athletic Trainers Association defines athletic trainers as health care professionals who collaborate with physicians. This collaboration includes injury prevention, emergency care, clinical diagnosis, therapeutic intervention and rehabilitation. The fulltime Licensed Athletic Trainers of Project Rose Sports Medicine Program are all trained at the master's degree level and have 20 years of experience, on average. On-site athletic trainers are a vital asset to school sports programs. Licensed Athletic Trainers on the sidelines are able to provide immediate care to an injured or ill athlete. With extensive knowledge of human anatomy and physiology, LATs may treat a wide array of conditions during a single game. Conditions could range from asthma to a wrist fracture, or from a concussion to overexertion. Project Rose Sports Medicine Program LATs communicate with over 40 specialist physicians in sports medicine, orthopedics and spine care, plus, have access to cutting-edge research and all services offered within the sports medicine program. To keep athletes on the field and in top form, consider a Licensed Athletic Trainer from Project Rose Sports Medicine Program for your school or league.
Sign Up